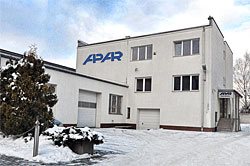 APAR is a manufacturing and trading company operating since 1985 in the market of automation, electronics and measurements in Poland. Our offer is focused on two main areas: Industrial Automation, and Housings and Connectors.
In the area of Industrial Automation we specialize in the production of sensors, transducers, meters, recorders and controllers constituting the elements of temperature, humidity and pressure measurement and control systems. These solutions also include devices for wireless measuring and recording of the above-mentioned values. Our projects are characterized by modern technical solutions, high accuracy, resistance to EMC interference and good functional properties, while maintaining a moderate price level. With over 25 years of experience and highly qualified engineers we are able to develop from scratch devices according to customer demand. We offer expert advice, analysis of possible design options, timely execution, and training in the operation of the device.
In addition to our own production, we are also the distributor of such companies as Pixsys, Esseci and Arthermo.
The second pillar of our company is the area of Enclosures & terminal blocks as we are the authorized representative of Italtronic, Multibox, Richard Wöhr, Gaint, PTR Hartmann GmbH. The offer includes electronic housings, connectors for DIN rails and PCB printing, micro-switches, fuse bases and cable penetrators.
We are looking forward to cooperation with you!